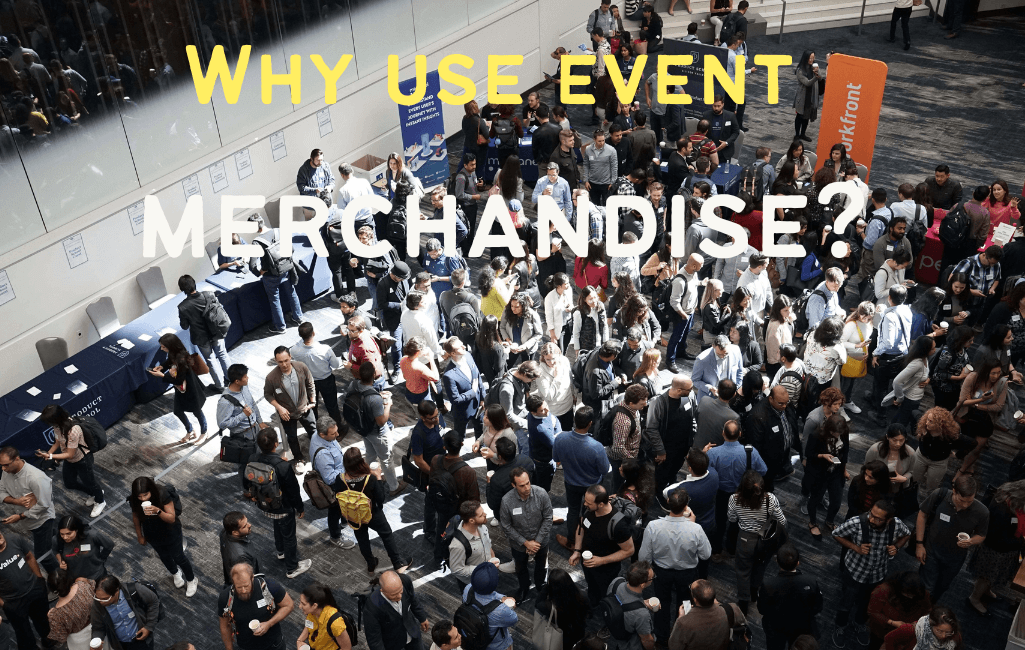 Do you need to invest in promotional items?
Branded merchandise at events has become the norm. In fact, when you attend most events, whether it's a music festival or a corporate networking day, there is an expectation that brands will have promotional products either being handed out for free, sold somewhere on site or included in the event goodie bag. 
Promotional bags, printed pens, branded notepads and custom company mugs are all products that have become synonymous with these types of events, especially corporate ones, and most attendees are more than happy to receive them as free gifts. Who doesn't want to leave an event with a brand new product that is high-quality, useful and looks good even if it is covered with company branding.  
But the real benefit is not for the event attendees but for the businesses who have their logo and contact details printed on these promotional items. 
Whether it's for building brand awareness, impressing potential clients or creating a positive brand reputation, businesses that use promotional items for events will always see positive results from the investment. 
Event merchandise will increase brand visibility which helps your business grow
By printing your logo or company name on promotional products that are then distributed or sold at events, you are putting your brand on display for all to see. 
Those who pass by your stand have an increased chance of noticing it and remembering your business if they see event merchandise. Better yet, those who stop and take some of your promotional products will not only become more aware of your business but they will now become walking billboards for your brand. 
The main purpose of many promotional products - from custom metal pens and printed notebooks to branded travel mugs and printed magnets - is for them to be put to use in various spaces, for example in the home, office, or on the commute, so it will be visible to hundreds, even thousands, of people. This single item will garner many impressions over its lifetime showcasing your brand name to people who never even attended the event.  This is perfect advertising for your business that involves no ongoing costs or work on your part.
You can even use promotional products for more than just brand recognition. It's a great way to promote the launch of a new service or product and it can even be used for a rebrand or to promote a different event. 
The extensive reach that promotional items have is enough to create buzz and awareness for all types of businesses and for any number of purposes which is why it is such a smart business investment.
---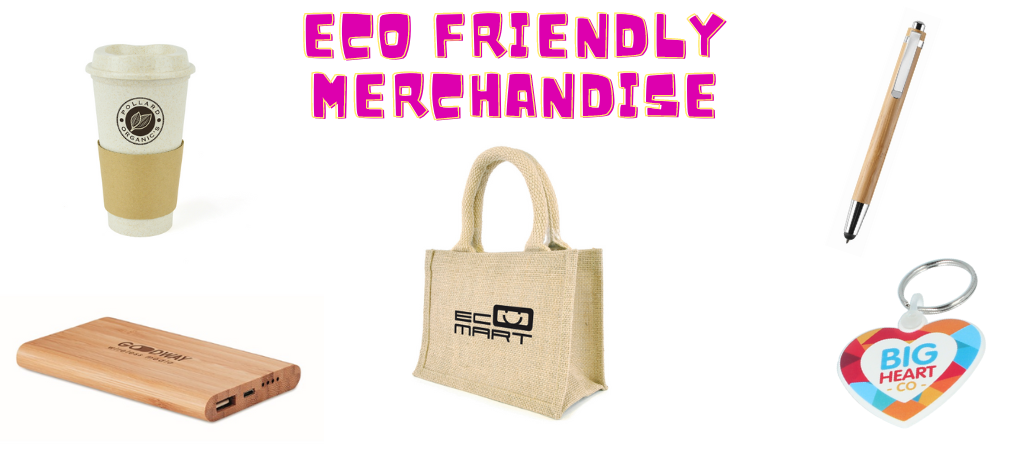 ---
Distributing branded items at events has a lasting impact
Unlike most other methods of advertising, promotional products boast the benefit of having a long lifespan. 
When making high-quality, durable merchandise, such as promotional tote bags and printed takeaway mugs, the aim is that they are built to last for a long time. This helps leave a lasting impression on the recipient who is likely to keep and use the promotional item long after the event is over.
This is even more true for merchandise sold at special events, such as music shows and festivals, where attendees will often buy these items as a piece of memorabilia that they want to hold on to for years to come. 
Displaying promotional gifts for your business at events will lead to more conversations.
Putting promotional products on display instantly grabs people's attention which is important at certain events. For example, if you have rented a space at a trade show and you want to bring people over to your stand then you need to get noticed, and what better way to do that than with promotional products. 
Once you get people over to your stand asking about the free gifts, you can then take this as an opportunity to talk about your products and services which increases your leads and grows your brand.
Some of our favourite and most popular promotional items for display purposes are engraved metal pens, promotional eco-friendly notebooks, branded coffee cups and printed desk water bottles. This is likely due to the fact these particular items are extremely practical, have a higher perceived value and are instantly recognisable by passers-by. 
Why not also invite your current customers over for a brief meeting to recognise an existing relationship with a corporate event goodie bag, including premium branded gifts such as promotional power banks, printed takeaway cups and luxury printed notebooks.
This will help retain them as clients and enable you to continue building a positive reputation that could lead to referrals and further business.
---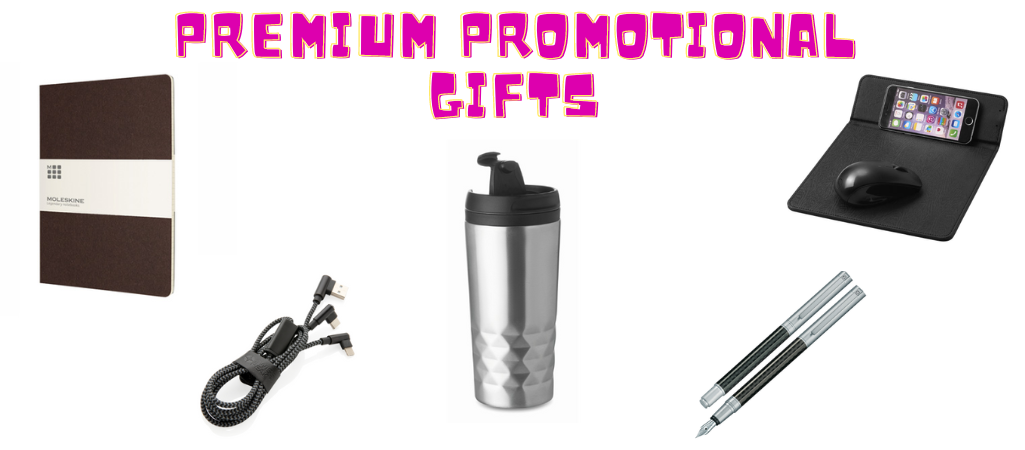 ---
How to choose promotional items for exhibitions
If your business has an upcoming exhibition to attend then it is important to be organised and considered in your decision when it comes to event merchandise.
Promotional products can be a costly investment so you need to ensure that you are creating something relevant and effective in order to see a return. 
 You should start by meeting with your team to discuss timescales and budget as this could limit what you can create. 
You will then need to explore your ideal customer by creating a profile that can help you establish what types of promotional products they would engage with. This is extremely important in order to make sure that you are targeting the right audience in the right way. 
For example, if you want to reach young professionals who are based in an office then printed stationery would be a practical choice. But you could also delve a bit deeper and subcategorise your audience by their industry or interests. 
If they are into fitness and sports then custom printed sports bottles or branded gym bags could be highly impactful, or if they work in the technology sector then promotional gadgets, such as branded power banks and custom charger cables, would be more interesting and useful to them. 
Once you have finalised your budget, timescale and customer profile, you can work as a team to start designing the finished product. This includes creating a tagline, message or bespoke artwork that you want to print onto the items. 
You may also consider whether you want to put together a company gift bag that houses more than one merchandise gift or even build a merchandise pack, such as a printed pen, custom notebook and branded mug for office workers.
Finally, you can approach the merchandise supplier to get pricing, produce the final visuals and supply product samples before moving forward with the manufacturing of your promotional goods ready for the event.
Company printed clothing will ensure your event team stands out
Another aspect of event merchandise that often gets overlooked is company printed clothing.
This presents you with another brilliant opportunity to further advertise your business and create a positive impression of your brand.
When attending trade shows, exhibitions or other corporate events, it looks far more professional and organised to have the event team wearing printed apparel that displays the company name or logo. It acts like a uniform for the day that can even be kept and worn at future events or during client meetings.
It also helps those working on the stand feel more involved and part of a team when they are wearing printed t-shirts, custom lanyards and embroidered baseball hats or company polos that clearly show they are part of that company. 
Not only does company printed clothing help employees, but it also increases brand visibility and helps you stand out. This makes it a lot easier for attendees to identify the members of your team should they want to speak to someone which could be the difference between people passing by and people approaching your stand to talk to you. Therefore, printed uniforms could give you the potential to get more leads.
Eco-friendly merchandise at events is replacing single-use plastics
Eco merchandise is quickly becoming a bestseller in the promotional products industry as we move towards an eco-conscious society that is now more aware of the damage caused by single-use plastics than ever before. As a result, there has been a huge shift from plastic promotional products towards greener alternatives that use natural, recycled or recyclable materials.
By investing in eco-friendly merchandise, you are showcasing your business as one that takes their social corporate responsibility seriously. This small step towards more sustainable business practices will only help with your public image and reputation. It could even broaden your audience further and get you recognised by those who champion businesses that value sustainability. 
Some of our bestselling sustainable promotional products are printed takeaway mugs made from recycled plastic or wheat straw, recycled or wheat straw pens, RPET promotional bags and printed notebooks made from recycled paper.
The importance of understanding your audience before you plan your event merchandise
The key to getting the most out of your promotional event merchandise is understanding who it is being aimed at. 
When you have a clear grasp on your audience and who is going to be at the event, you can decide on what will be the most relevant event merchandise for you. This is because the impact of a promotional product depends heavily on how much it is appreciated by the recipient so it will only be effective when it will actually be of use to them. 
---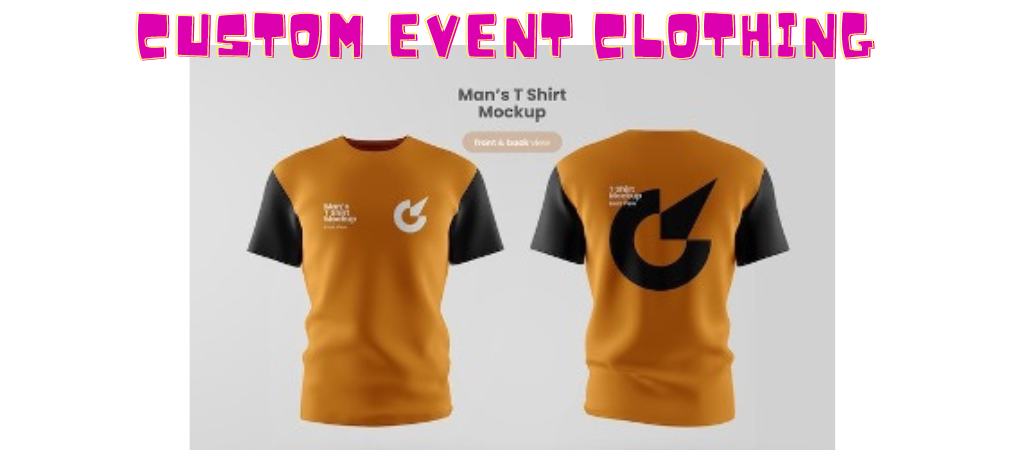 ---
Use these event merchandise ideas as great examples of understanding and aligning with your audience:
Desk-based professions
When attending a corporate event, such as a trade show, or trying to target those who have office-based professions, the easiest but always effective promotional item of choice is printed stationery. 
Promotional A5 notebooks and branded executive pens are a tried and tested favourite because these are everyday items that office-based workers will always use. They also have the potential to travel with the recipient into spaces outside of the workplace where they can be seen by more people which increases your brand visibility. 
For an even bigger impact, you could add several promotional stationery items to a corporate event goodie bag.
Young professionals in tech
Those working in the tech industry have a real appreciation for promotional gadgets so this would be the most effective way to tap into such a market. 
From branded mobile phone stands to printed cable tidies, there are a wide range of promotional technology products that would be treasured by a young professional in the tech world. 
These types of items also tend to be looked upon as high value because of their functionality so it is easy to sell them and make an instant return on your investment. 
Fitness enthusiasts
The fitness industry is a huge market that continues to grow year on year so it is more than likely that your business includes a large portion of fitness enthusiasts. 
Whether it is committed gym-goers, passionate runners or casual sports players, there are several brilliant promotional items that would be ideal for this audience.
We would recommend looking at promotional gym towels, printed water bottles and branded gym bags as these are items that appeal to all genders and ages that fall under the fitness enthusiast category. 
Fashion conscious 
Grabbing the attention of the fashion conscious with branded merchandise is a tough feat; however, it is not impossible. 
Printed apparel can be highly effective for this audience especially when it incorporates trends and some stylish artwork. 
Promotional bucket hats are a great example of an on-trend product that works perfectly as branded merchandise. Your business has the opportunity to display their branding or artwork by printing it onto the front of the hat so that it is visible to all those that the wearer encounters each time they sport it. 
Learn about trending event merchandise in 2022
It is important to stay up to date with the latest trends in event merchandise to ensure that you don't get left behind or outshined by competitors. 
Here are some event merchandise ideas when it comes to trending products for 2022…
Printed pop sockets
These adorable promotional gadgets have become a massive trend recently, especially amongst millennials and Gen Z. As a promotional product, they work really well to tap into these demographics and can be easily added to event bags or sold at events.
Printed pop sockets are affordable in volume giving you the chance to design a pack with multiple different designs and they provide a great print area that will allow your branding and message to be seen by hundreds, even thousands, of people.
Printed water bottles with straws
There has also been a wave in popularity for printed water bottles with straws which is more than likely due to their constant appearance in popular TV show, Love Island.
They are a brilliant promotional item for all businesses as they promote sustainable and healthy living and they provide a great print area for your branding. 
Promotional water bottles with straws are also an item that will get a huge amount of visibility as they will sit on people's desks, get carried around on the commute to work and even take pride of place at the gym. 
Wheat straw coffee cups
Eco-friendly merchandise is a huge trend this year and will only grow as we embrace sustainability more and more. 
In recent months, one of the top selling eco promotional products has been printed wheat straw coffee cups. 
These stylish and travel-friendly items remove the need for the single-use coffee cups given out at coffee houses and cafes which is great for the environment.
Plus, they offer your business the opportunity to clearly display a message that will be carried, in hand, to various places over its lifetime which will bring a lot of eyes and attention to your brand. 
Eco-friendly printed bags
Staying on the wave of sustainability, reusable sustainable promotional bags remain one of the most popular items for printed merchandise. 
It is a market that continues to grow and innovate with some great environmentally-friendly materials that work well when creating durable and versatile bags. 
The options range from RPET (recycled plastic) all the way through to organic cotton and can be used to make any type of bag that you require for your business needs.
They offer event attendees a great alternative to single-use plastics as a bag that can be reused time and time again after the event for shopping, commuting and everyday activities. 
They also work well as event bags for businesses who want to distribute a number of promotional products, flyers, brochures and more.
Take full advantage of the benefits of event merchandise
All in all, event merchandise is a fantastic marketing opportunity that continues to hold its relevance and impact even in the digital age. 
This is why it is important for businesses to utilise this tool wherever possible, especially when attending events. 
When done correctly, taking into consideration the budget, timescales and target audience, event merchandise has the ability to bring people to your stand at exhibitions, increase brand visibility, help you stand out amongst the competition and establish your business as one that values its customers - and the planet. 
Don't miss out the chance to take your business to the next level with promotional items for events.